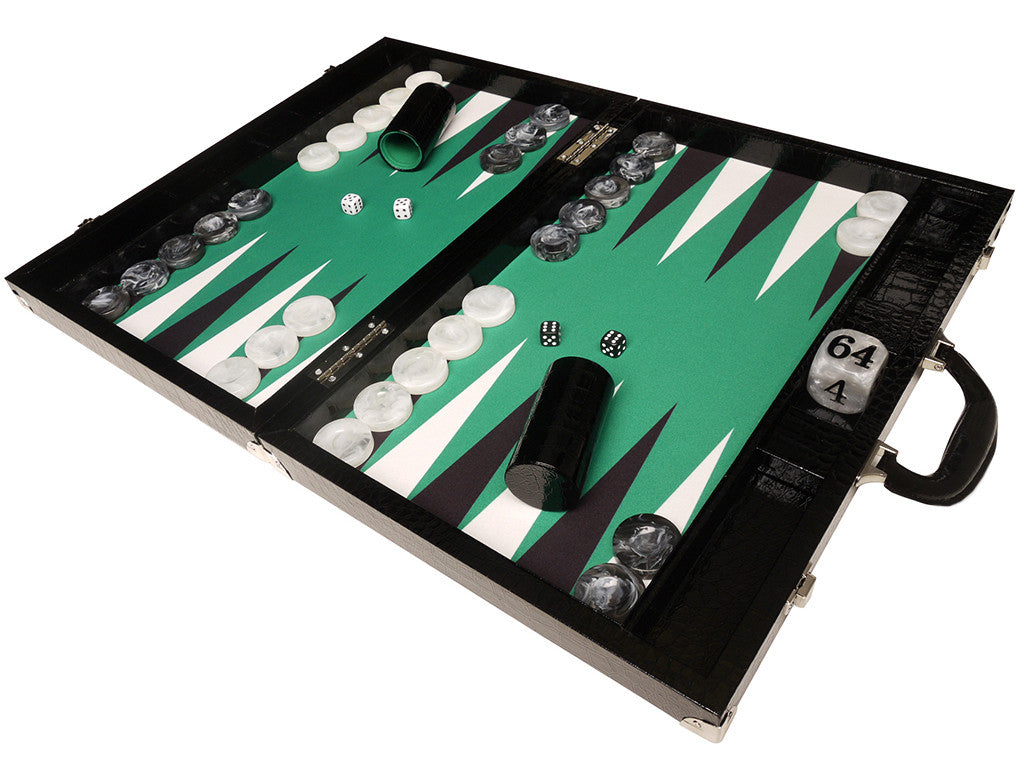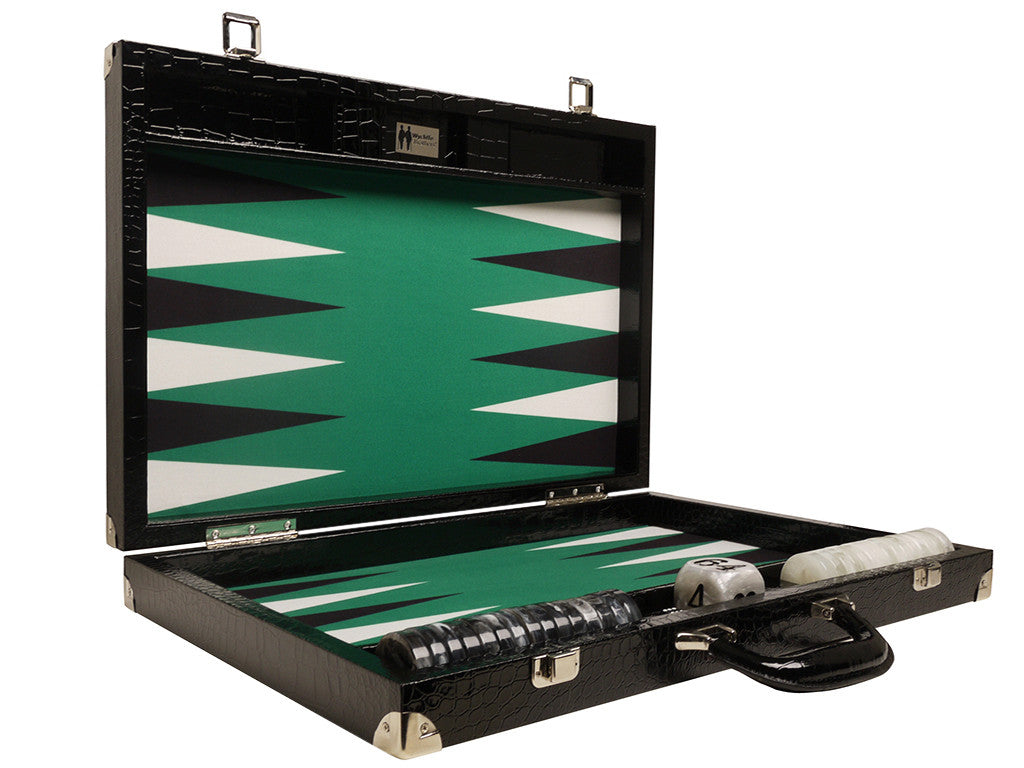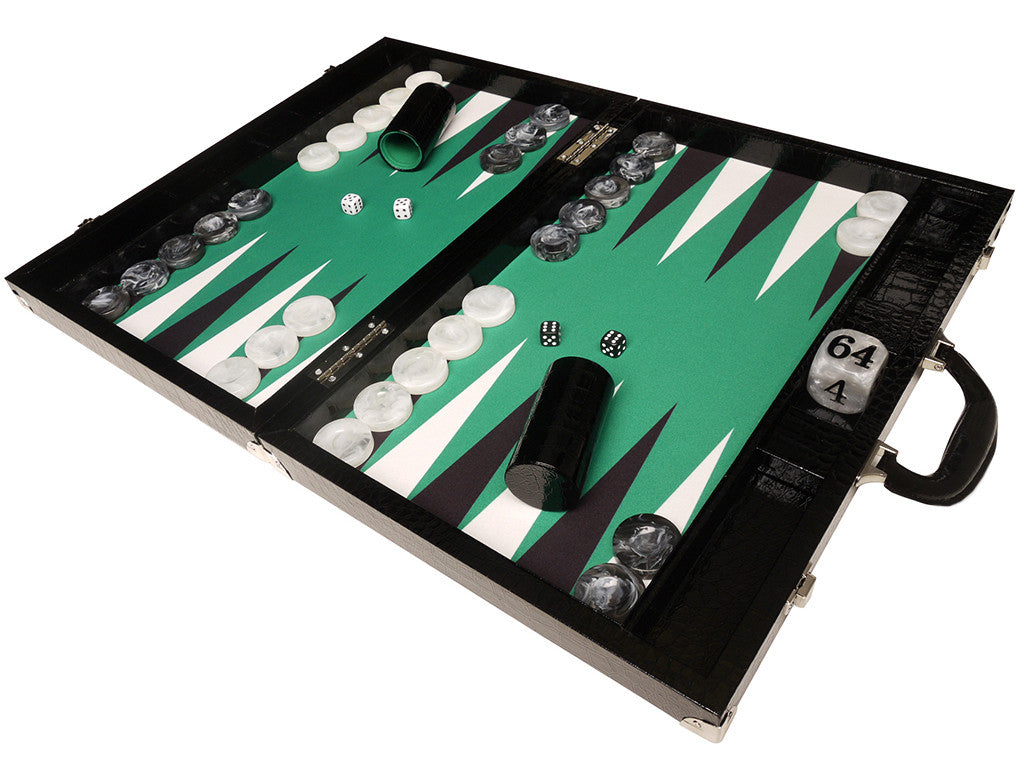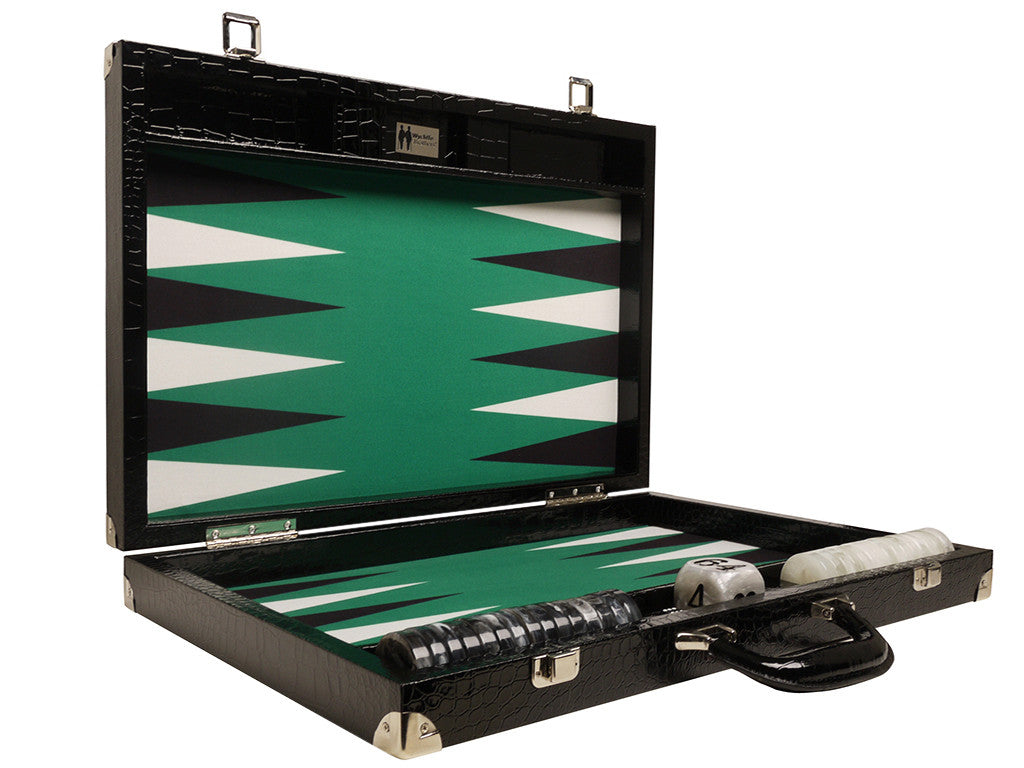 Im Angebot
Wycliffe Brothers Backgammon-Turnierset Schwarzes Kroko mit grüner Spielfläche - Gen III
Die mit Spannung erwartete Generation III-Serie der Backgammon-Sets von Wycliffe Brothers ist nun in Europa erhältlich. Wie schon die Vorgängermodelle bieten diese beeindruckenden Backgammon-Sets alle Merkmale hochwertiger professioneller Sets zum erschwinglichen Preis.
Kernstück dieses Backgammon-Sets in Turniergröße ist das besonders glatte Spielfeld aus V-Fiber™. Dieses Material wurde von Wycliffe Brothers entwickelt und vereint die Vorzüge von Filz und Mikrofaser in einem Backgammon-Spielfeld, das die zwei grundlegenden Anforderungen erfüllt: 1. Die Steine gleiten mühelos auf einem luxuriösen und vollkommen glatten Feld, und 2. die Spielfläche bietet genau das richtige Maß an Reibung, sodass die Steine nicht verrutschen, wenn das Spielbrett angestoßen oder verschoben wird.
Neu bei der Generation III-Serie sind die beeindruckenden marmorierten Steine. Sie sind hochglanzpoliert und von unvergleichlicher Schönheit. Aufgrund ihrer Höhe von 11 mm kommt es bei diesen großen Spielsteinen deutlich seltener zu Fällen, in denen Würfel auf der Kante stehen. Das bedeutet: weniger wiederholtes Würfeln, mehr Zeit für das Spiel. Sie mögen schwere Spielsteine? Dann sind Sie hier genau richtig. Mit einem Gewicht von stolzen 20 Gramm sind diese Steine offiziell die neuen Spitzenreiter im Backgammon!
Jedes der Backgammon-Sets ist mit Würfelbechern in Profi-Qualität ausgestattet, deren ergonomisches Design sich perfekt in die Hand schmiegt und deren Auskleidung mit dem hochwertigen V-Fiber™ die Geräuschentwicklung beim Schütteln auf ein Mindestmaß senkt. Der Kipprand der Becher in Turnierqualität schließt jegliche Manipulation der Würfel aus.
Der Set-Koffer verfügt über einen verstärkten Tragegriff und ein vernickeltes Schloss.
Die Sets sind nur in begrenzter Anzahl erhältlich.
Backgammon-Set Dimensionen:
Geschlossen Länge: 21 "; Breite: 14 1/2"; Höhe: 3 "
Offen Länge: 21 "Breite: 28 3/4" Höhe: 1 1/2 "
Backgammon Set Materialien:

Gehäusematerial: Croco Kunstleder
Gehäusefarbe: Schwarz
Feldmaterial: V-Faser ™
Feldfarbe: Grün
Punkte 1 Farbe: Weiß
Punkte 2 Farbe: Shwartz Schließe Stil: Vernickelt verriegelt
Backgammon Stone Abmessungen:
Durchmesser: 1 3/4 "(44,5 mm)
Dick: 7/16 "(11 mm)
Gewicht: 20 Gramm
Material: Hochglanz Marbleized - finger schale
Steine 1 Farbe: Shwartz
Steine 2 Farbe: Weiß
Backgammon Würfel / Würfel Abmessungen:
Würfel Größe: 9/16 " Würfel: 1 3/4 "
Würfel Set 1 Farbe: Shwartz
Würfel Set 2 Farbe: Weiß
Würfel Farbe: Weiß Perlmutt
Backgammon Cup Abmessungen:
Cup Höhe: 4 "Breite: 2"
Cup Außen: Croco Kunstleder
Cup Innenraum: V-Fiber ™ mit Trip Lippe
Cup 1 Aussen: Shwartz
Cup 1 Innen: Grün
Cup 2 Aussen: Shwartz
Cup 2 Innen: Grün
About Wycliffe Brothers
Professional Backgammon Sets at American-Wholesaler
Explore the top level of professional backgammon with the Wycliffe Brothers collection at American-Wholesaler. As a brand that specializes in crafting exquisite backgammon sets designed for tournament and professional play, The Wycliffe Brothers offer a collection that redefines the boundaries of elegance and functionality.
In this collection, discover a variety of large 21-inch backgammon sets designed for dedicated players. These sets are carefully made from faux-leather or leatherette, blending luxury and durability. The standout feature is the unique V-Fiber playing surface, an extraordinary innovation by The Wycliffe Brothers, offering a remarkably smooth texture similar to felt. This innovation sets these sets apart, creating a distinctive gaming experience where checkers glide smoothly and dice rolls provide a satisfying cushioned feel.
The collection offers two exceptional series: the Croco and Masters Edition. The Croco series stands as a testament to refined design and sophisticated gaming. The faux-leather exterior boasts a tasteful crocodile pattern, elevating the aesthetic of the set to new heights. Its meticulous craftsmanship extends to the V-Fiber playing surface, ensuring every match is a symphony of smooth moves and precise rolls. The larger 1-3/4" (42mm) doubling cube in this series adds strategic depth, enhancing the gameplay experience.
In the Croco series, the checkers themselves are marvels of design, measuring 1 3/4" (44.5mm) in diameter and 7/16" (11 mm) in thickness. Their marbleized appearance lends an air of elegance, while the finger dishes make handling them a breeze. The professional dice cups, featuring trip lips and V-Fiber lining, minimize dice noise, immersing you fully in the game. The Croco series is more than just a backgammon set; it's a statement of sophistication and precision.
Introducing the Masters Edition series, a fresh peak in backgammon design innovation. Building on the legacy of the Croco series, the Masters Edition is a tribute to excellence accessible to all. Encased in black leatherette cases, these sets feature vibrant V-Fiber playing surfaces in an array of colors, from regal purple to striking red, blue, and yellow. The marbleized checkers in this series are masterpieces themselves, boasting an oversized 1 3/4" (45 mm) diameter and a thickness of 7/16" (10 mm). Their substantial weight of 20 grams each enhances gameplay stability, while the finger dishes imbue them with practical elegance.
The endorsement of Chiva Tafazzoli, President of the World Backgammon Association, resounds throughout the backgammon community: "I highly recommend the Wycliffe Brothers® Tournament backgammon sets. There are so many things to love about these boards: incredibly smooth playing surface, enormous checkers, professional-grade cups, cube, and dice...not to mention the unbelievable price! Dollar for dollar, these are the best backgammon sets in the world."
Incorporating quality, innovation, and affordability, the Wycliffe Brothers category at American-Wholesaler stands as the definitive choice for professional backgammon enthusiasts worldwide. Experience the essence of tournament play and elevate your gaming with these exceptional sets from a brand that truly understands the art of the game.