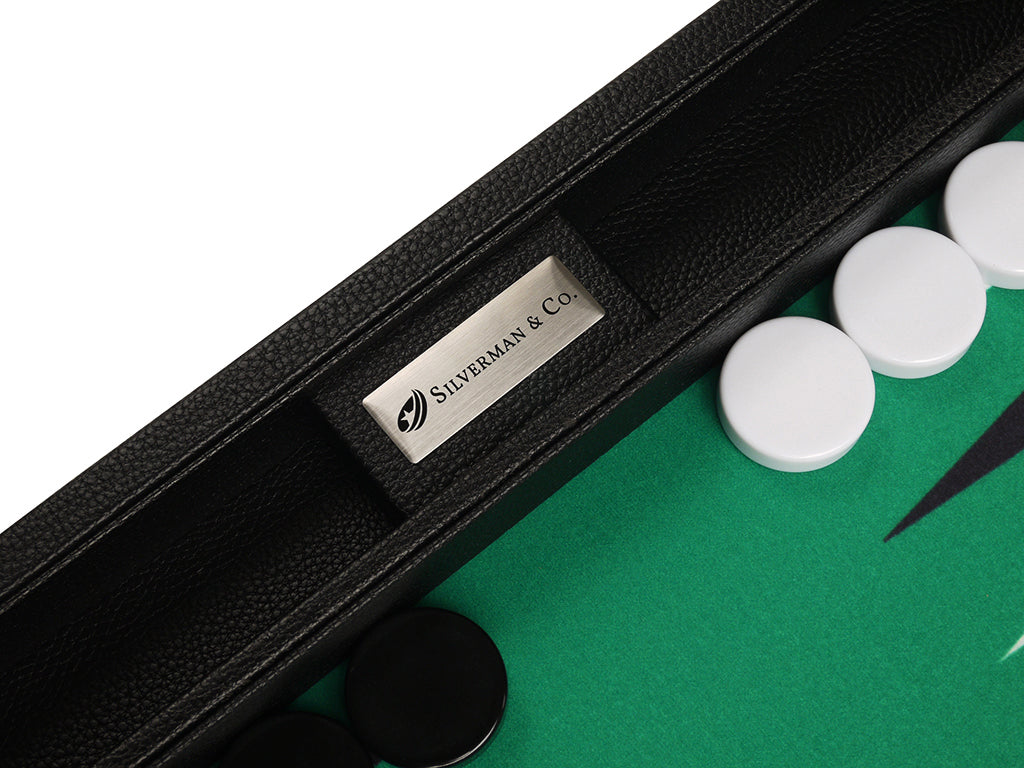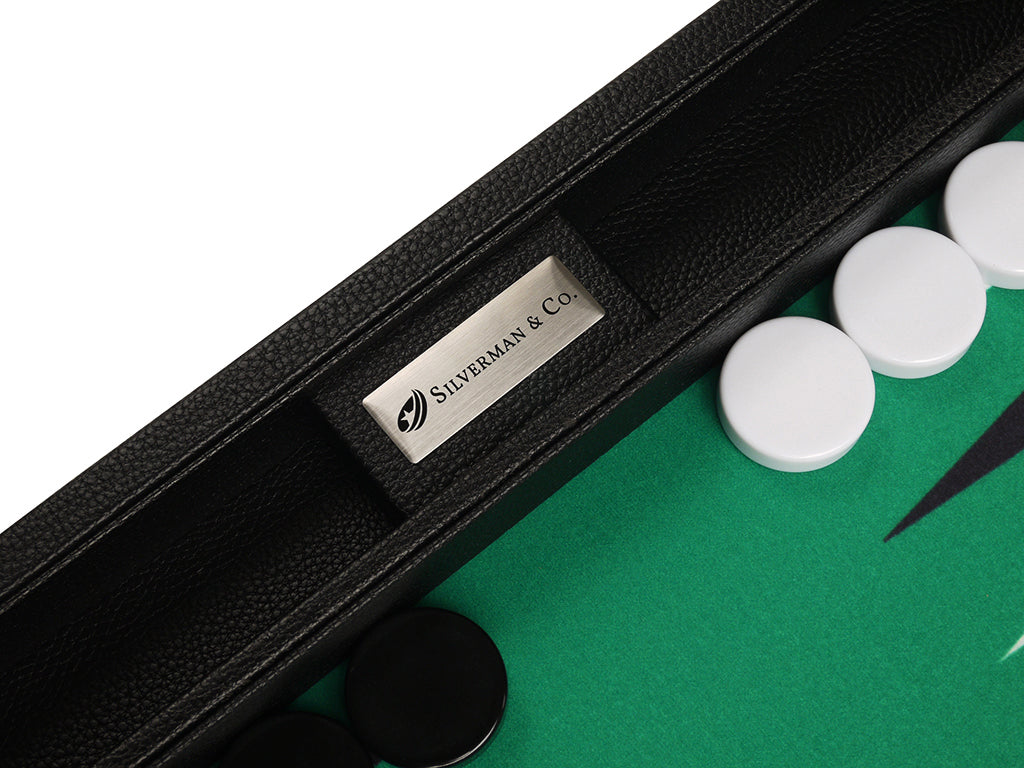 Im Angebot
40 x 53 cm Premium Backgammon Set - Schwarz mit weißen und schwarzen Punkten
40 x 53 cm Premium Backgammon Set - Schwarz mit weißen und schwarzen Punkten
Eleganter Stil, hochwertige Verarbeitung, hochwertiges Kunstleder außen, glatte Spielfläche

Misst 40,5 x 26,75 x 6,25 cm, wenn geschlossen

Misst 40,5 x 53,25 x 3,25 cm wenn offen

Robuster, robuster Griff, stabile Riegel, starker Rahmen - inklusive hochwertiger Spielsteine
Einfach zu transportieren und zu verstauen - Perfekt für Reisen, Turniere, Indoor, Outdoor und Familienspaß
Sie sind anspruchsvoll. Qualität ist Ihnen wichtig. Sie legen Wert auf Handwerkskunst, Liebe zum Detail und erlesenes Design. Aber die damit einhergehenden hohen Preise erfordern oft langfristiges Ansparen. Das wird jetzt anders! Ab sofort gibt es die atemberaubenden Premium-Backgammon-Sets von Silverman & Co. Diese außergewöhnlichen Produkte setzen neue Qualitätsmaßstäbe zu einem unschlagbaren Preis.
Das Äußere aus hochwertigem Kunstleder ist mit kompromissloser Präzision und Liebe zum Detail verarbeitet. Auf der Spielfläche aus ultrafeinem, gepolstertem Filz gleiten die Spielsteine vollkommen mühelos. Die Spielsteine warten mit beeindruckenden 32 mm Durchmesser und nahezu einem Zentimeter Höhe auf. Besonders angenehm: Die Spielsteine passen perfekt in das Home-Board, sodass bei der Aufstellung nur minimale Lücken zwischen den Reihen erscheinen.
Nach dem Spiel werden Sie sehen, wie exakt die Spielsteine sich in die Ablage einfügen, sodass Sie das Spielbrett mühelos (ohne verrutschende Spielsteine!) schließen und sicher zu Ihrer nächsten Begegnung transportieren können.
Und das ist noch nicht alles! Die Würfelbecher zeichnen sich durch eine ergonomische ovale Form aus. Die makellose Filzauskleidung dämpft Geräusche, und der Becherrand in Turnierausführung sorgt stets für faires Würfeln. Jedes Set umfasst einen großen 25-mm-Dopplerwürfel und 13-mm-Würfel in schwarzem und weißem Lack.
Ein derartig hochwertige Ausführung gab es bislang nur bei Backgammon-Sets der gehobenen Preisklassen. Aber das wird nun anders. Die Premium-Backgammon-Sets von Silverman & Co. bieten Spitzenqualität zum umschlagbaren Preis. Diese exklusiv bei American-Wholesaler erhältlichen Backgammon-Sets können wir vorbehaltlos empfehlen.
About Silverman & Co.
Silverman & Co. Backgammon Sets with Free Shipping
Now available in Europe: Silverman & Co. backgammon sets with free shipping, exclusively through American-Wholesaler. Crafted with meticulous attention to detail and directly sourced from the manufacturer to eliminate additional costs, these sets redefine the elegance of backgammon.
The hallmark of Silverman & Co. is its vibrant color design, creating a distinct and stylish appeal that stands out. Each backgammon set boasts a faux-leather exterior, exuding luxury, and features an ultra-fine padded felt playing surface, offering a smooth and comfortable gameplay experience.
Every set is meticulously designed as a luggage-style case, providing both ease of transportation and storage for accessories when closed, and transforming into a play board when open. The case features a robust, rugged handle, solid silver-colored latches, and a strong frame, ensuring added durability for long-lasting use.
Designed for both functionality and convenience, these backgammon sets come in two sizes, catering to various preferences. The medium 16-inch (40 cm) size is perfect for regular use, while the large 19-inch (48 cm) size is ideal for those seeking a grander board for large-scale games.
Each Silverman & Co. backgammon set is fully equipped, providing everything you need for an exceptional gaming experience. You'll find 2 sets of checkers (15 in each set), 2 sets of dice (4 in total), 2 cups for rolling the dice, and a doubling cube, ensuring that you have all the essentials for exciting matches.
The set includes checkers made from the incredibly durable Uria Stone material, ensuring they won't break or crack during intense gameplay. The size of the checkers corresponds to the board size, with the larger board having larger checkers. For the 16-inch board, the checkers are 32 mm in diameter and 10 mm thick, while the 19-inch board comes with 40 mm diameter and 10 mm thick checkers.
These backgammon sets stand out due to their great quality, affordability, and the extra perk of free shipping, providing a luxurious gaming experience without overspending. Improve your backgammon play with the beautiful Silverman & Co. sets, currently offered at American-Wholesaler.